Dance of the Gypsies
Learn flamenco from a professional dancer in Granada. The private lesson takes place in a cave that was inhabited by gypsies, the originators of the flamenco, as far back as the 15th century-the ideal setting for this dance. Tapas, sangria, and live guitar and drum accompaniment will keep your feet moving. Cost: $400. Source: Virginia Irurita (see No. 46)
Diplomatic Dining
Have dinner with the U.S. ambassador and his art-enthusiast wife in their palace home in Prague, a 1920s architectual gem filled with art and antiques. Conversation may range from opera to politics, or from the life of a diplomat to the city's best sights. Cost: from $100, depending on the menu. Source: Martha Ganghen, Sterling Travel, Atlanta (800-447-2799; martha@sterlingtvl.com; sterlingtvl.com).
Go Racing with the Queen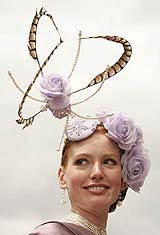 View the Royal Ascot Races from a private box in the grandstand overlooking the Royal Box (the queen and her entourage attend daily, arriving by carriage with footmen in gold livery). The entire site has been renovated for 2006, and you'll have access to the horse paddocks as well. Cost: $2900 - $3940. Source: Susie Worthy (see No. 32).
Your Broadway Debut
If you're gaga about the Great White Way, a small fortune can get you on stage. Spend the afternoon with actors, singers, and dancers from your favorite show, attending costume fittings and rehearsals in preparation for your unforgetable debut--in a walk-on role. Cost $30,000 and up, depending on the show. Source: Kitt Garrett, Discover New York with Kitt Garrett, New York City (212-370-1319; sales@dnykg.com; dnykg.com).
Williams, Brook. "Experiences That Only Insiders Can Deliver" in
Conde Nast Traveller
. December 2005.