Recent talk among the women at the seminary has begun to really concern me. I feel myself being dragged down into discontentment, even piping in with my own observations at times, as I listen to them (students, wives of students, faculty, wives of faculty, and staff) all saying the same thing: single men at the seminary are odd. They have stereotyped the male population into two groups: married and weird.
I was asked by a recent visitor during a conference this weekend if I was dating any of my fellow students … before I could answer her question, a seminarian's wife spoke up.
"Of course she's not! The boys here are ridiculous!"
The women have further split the category of "weird" into two sub-categories: over-zealous and lethargic. According to the ladies, it is rare to find someone within the gray area.
I'm sick of it. I'm sick of it being a topic of conversation that constantly arises when two or more women are gathered. I could always change the topic by commenting on the weather … but it will just come up some other time. Although my motives may seem odd and selfish by merely desiring to rid myself of the annoyance of conversations concerning the oddities of seminary single men, I hereby am attempting to rectify the situation by ... speaking to the men … for, obviously the women aren't.
You may read this if you like or completely ignore it. However, I WILL NOT tolerate this topic to become one of controversy, because that is not the purpose! I will say my peace and that will be that. If you disagree with me … fine, my feelings aren't hurt. If what I have written has caused you to understand better WHAT WOMEN WANT, bravo!
what women want: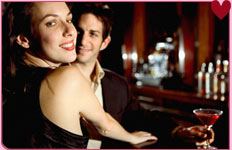 1. Women want to be noticed.
Before diving into the icy waters of the unknown (will she say "yes" if I ask her out?), there is a ritual dance that has been practiced before Solomon wrote his love song. This dance involves the man making his interest known in a relatively riskless manner by dancing these steps:
a. let her see you noticing her across the room
b. be clean and smell good
c. get to know her
d. show her you are attracted to her ("you look great today!")
e. smile at her
f. be where she is (stalkers need not apply)
g. give her compliments
h. say something funny
i. stand tall
The lady then responds to these steps, if she accepts your offer to dance, by
a. standing a little straighter
b. looking you in the eye, then looking away, then looking back
c. making it a point to talk to you
d. moving like you (I surprisingly have found myself doing this … when I'm comfortable with someone I'll tend to unconsciously mimic his/her stance or hand placement)
e. complimenting you (something a woman rarely gives lightly)
(If the girl does not respond with these steps, you are dealing with someone who is either not interested or shy)
Here are some example compliments a woman might enjoy hearing. (Notice that they involve compliments of who the woman is.)
1. You are so smart.
2. I love how creative you are.
3. You look amazing in that dress.
4. You are so much fun to be around.
5. I love talking to you.
Realizing that men are generally sight-sensitive by nature, make the extra effort to come up with compliments that are not limited to her appearance. Otherwise you appear shallow and un-appreciative of her true nature, her intelligence, wit, skill, humor, talent, etc.
2. Women want to be asked.
a. Ask her out in person.
b. Don't ask a group of people and her to an event. That's not a date. She'll feel like she's only one of the group.
c. Ask her out to a specific event.
i. DON'T ASK: What are you doing this weekend? Do you have plans on Thursday? I'm going to a concert tomorrow night if you want to go too.
ii. DO ASK: Would you like to go out to dinner Saturday night at 7? … or … I heard there was festival downtown this weekend, would you like to go with me Saturday afternoon?
d. If she says no, don't ask why. It's none of your business.
e. Never ask more than twice. (Unless she has let you know that she would welcome other opportunities to go out with you but she was buys the other times you asked.)
f. Do not ask her through a friend.
g. Ask her out for one date at a time. Don't try and book her entire month or lifetime after the first date.
h. Be direct … none of this beating around the bush business … "I was wondering if maybe you weren't too busy that you might be interested in perhaps sometime in the future, near or whenever, in doing something with me." … um, No.
3. Women want a man with a plan.
Nothing's worse than the guy who asks, "So … what do you want to do?"
"I don't know. What do you want to do?"
A man with a plan goes from being just another guy to … "wow, what a great guy!"
A general rule of thumb is to ask her no less than 3 days before the event. For instance if the event is Friday night, the invitation should be extended no later than Wednesday. This shows consideration for her valuable time … remember she has a life, and it doesn't revolve around you. It also gives you the time to do a smash-bang job of planning a specatacular evening.
Even the most independent women long for a man who is in control. So often in life she may feel she is carrying the weight of the world on her shoulders, and if you expect her to plan all of your dates … you've just added another load to her burden. How much she would give for a guy who took the time to look in the local paper or community events calendar online to find out that there was a Shakespeare-in-the-Park performance that weekend and made plans for a picnic while watching the show! That gives her the luxury of having time to daydream about you and the fun of selecting the perfect outfit for the event.
Pre-planning is huge! If you are intending to take the girl of your dreams to a movie on it's opening night, purchase the tickets in advance. Make reservations. Make sure there's enough gas in your car. Make sure you know exactly where you're going. Have enough cash for the tip. Etc.
Also … be flexible. The woman understands that circumstances are unpredictable. Have a Plan B. But in any case … don't let it frazzle you. If anything, switch it around into a good thing … don't let unexpected events ruin your night. You're above that.
A man with a plan makes a woman feel relaxed and appreciated.
4. Women want to be with gentlemen.
It should be a habit with you to perform gentlemanly acts of chivalry to not only your date, but all women. Remember, she's watching you.
The effects of feminism have caused men to hesitate at performing these acts. I myself am guilty of discouraging them. A few years ago I visited my alma mater for my friends' graduation. All of them were in the auditorium rehearsing, so I decided to go to the library. As I neared the building, I could see in my peripheral vision a guy walking towards the library from a different direction. I mentally calculated his distance, angle, and rate and was bothered when I realized that he would arrive at the library door just as I would. Ugh! There would commence that horrible, awkward moment of who's going to open the door for whom. I didn't feel like dealing with it that day, so I increased my pace thereby allowing plenty of time for me to get my own door. To my shock I noticed that he had also increased HIS speed (all this still being observed in the peripheral). Well, I wouldn't have it. I sped up to a brisk walk. SO DID HE! Well, this was just ridiculous! He could have his silly door! I slowed to a meander and SO HAD HE!!! By this time, both of us were quite close to each other and I was prepared to give him a piece of my mind! I whipped around to confront …
GASP! Ethan!!!
Ha! I could have thrown my arms around him. (Many of you know why I didn't.) We stood outside the library talking for hours, fully forgetting why either of us had been going to the library in the first place. (FYI – we weren't dating. We had been actors in a couple of on-campus performances together. It was just nice to see an old friend.)
I still struggle with the whole door issue; but don't let women like myself deter you from performing considerate acts of chivalry. Don't make the woman wait for you to open the door!
If you catch sight of a woman carrying a heavy load, whether it looks like she has things under control or not, offer her your assistance. I, myself, struggle with asking anyone for help … but delight in those who offer their help.
Be cool, kind, and listen … listen.
5. Women want the pursuit to continue.
a. The man in the relationship ought to call more than the woman.
b. The man defines the relationship. Don't you dare make her bring up the DTR!
c. The man gives more. This doesn't have to empty out your savings account. Be creative. Give more of your time, etc. You are leading in the relationship. She follows your steps.
Stand up and step up to the plate and be a MAN.
(Much of the above post is under the inspiration of the chapter "Stand Up and Be a Man" of the book
Marriable: Taking the Desperate Out of Dating
, by Michael and Hayley DiMarco.)